Posted by Tyler Krochmal
A new year means new beginnings at Wicked Creative. A chance to look back on 2013, realize the position we're in today and look ahead toward an exciting and limitless future.
For my part, 2013 at Wicked Creative was comprised of the most heart-pounding, unpredictable and rewarding seven months that I can remember. As you can read in the previous post below, I wrote a good two pages on just my first month alone – and even that was cut down significantly. I could write an entire book (and maybe I am…) on my life here thus far, and I still feel as though the best may be ahead of me. While I often miss the world of working in baseball, I wouldn't trade in my life here and now for anything.
In an attempt to condense everything into a somewhat-readable post, I've picked a theme and highlighted everything NEW for Wicked and myself in the last seven months and the potential opportunities on the horizon. We'll stick with the PG version for professionalism-sake…
NEW DIGS
It's been a wild last year for Wicked Creative, with perhaps the biggest change being the move to a new office building in late June. The new building is located just a few doors down from the previous offices and is under our control, compared to being squeezed into our old building with a quirky cast of characters from other walks of life.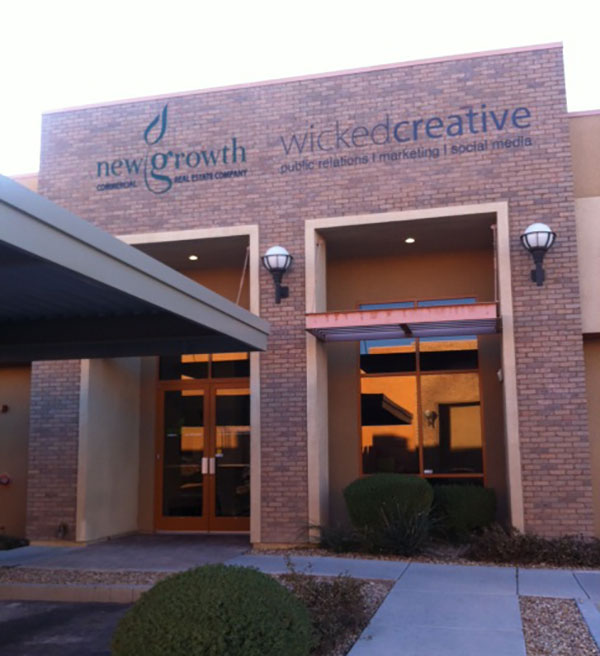 There are many perks to the new digs, including a large kitchen, numerous private offices and an executive office complete with en suite bathroom and playroom for the president of Wicked Creative, Stephanie Wilson, and her son Teo. There is also a large conference room and a nifty entrance lobby highlighted by water features.
For my part, the new office has been great and is a significant step forward for our company. While there are times we do miss Room H, the large office in our old building which held five Wickeds at a time, the new digs are cozy and everyone is still within a yell's distance (trust me).
And yes, as the only male Wicked I did have a few glorious months of having my very own private bathroom before we rented out the other offices to realtor guys. Luckily they're not around very often.
NEW CLIENTS
Las Vegas PR is a very fluid industry both in terms of clientele and working professionals. People come and go, just as clients do. Many clients at Wicked have been here for years, while others choose to use PR specifically for a grand opening, to promote a new outlet or to shake things up with a few months of press buzz.
I've had the opportunity to work on a few exciting new accounts in my time. I've lived around the country in Chicago, Missouri, Seattle and Miami, but never seen people flock to celebrity chefs like they do in Vegas. For whatever reason, people love them here. I've had the pleasure of working with Chef Carla Pellegrino from "Top Chef," and "Throwdown with Bobby Flay;" and Chef Angelo Sosa from "Top Chef," "Top Chef All-Stars" and "Iron Chef." Chef Carla owns Bratalian Neapolitan Cantina in Henderson, Nev., and is currently living in Miami leading the opening of Touche Restaurant & Lounge on the roof of E11even nightclub. Chef Angelo is the co-owner of Poppy Den Asian Bistro in Tivoli Village and runs Anejo Tequileria in New York.
One of my proudest accomplishments at Wicked thus far has been helping to lead the campaign for our first resort client, Aliante Casino + Hotel + Spa. We began with Aliante in August and have since led the publicity efforts for the opening of a brand-new spa, a unique 24-hour farm-to-table café, an innovative mobile app and the celebration of their one-year 'Independence Day' in November. Aliante broke from a corporation in 2012 to become an independent property, and one of our biggest goals has been to separate them from their previous ownership among public perception. There is still work to be done, but we've accomplished a great deal in five months on the account thanks to a great team effort from everyone at the property.
Other major NEW projects for Wicked have included Chayo Mexican Kitchen + Tequila Bar and F.A.M.E. at The LINQ; an innovative party app/website called Party Petition; REVIV hangover treatment; Sami Ladeki's Sammy's Restaurant Bar & Grill; and The Morton Group's La Cave Wine and Food Hideaway, La Comida and the all-new CRUSH: eat, drink, love at MGM Grand.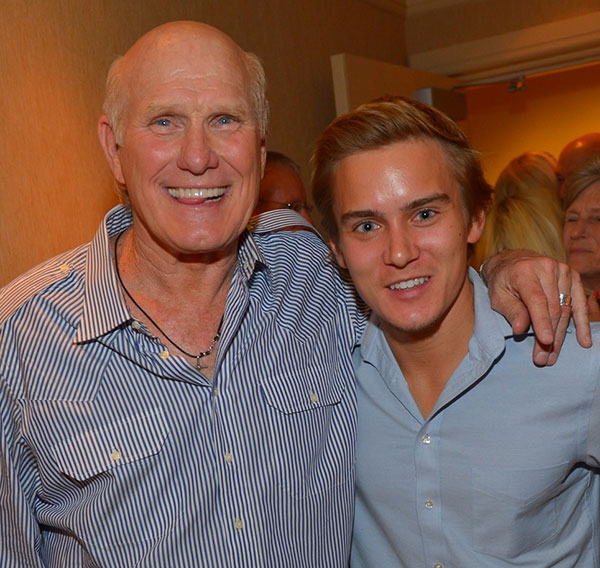 Another fun addition has been NFL Hall of Famer and FOX TV analyst Terry Bradshaw, who, believe it or not, performed an entertaining singing, dancing and comedy show at The Mirage.
We also led the groundbreaking announcement for Dinner in the Sky Las Vegas, set to open in 2014. The dynamic attraction invites diners to eat at an open-air table dangling 180 feet above the ground, overlooking the world-famous Las Vegas Strip. Each 22-person table is suspended from a 200-foot steel tower, with gourmet three-course meals lasting roughly one hour.
NEW CITY: NEW POSSIBILITIES
Wicked Creative officially opened a new office in San Diego's East Village at the tail-end of 2013, marking a major interstate expansion for the company. The new office will provide room for our quickly growing team and serve as a more central location for clients who conduct business in the Southern California area. I've had the opportunity of working on business development for the new office, which is certainly a new experience. This involves researching potential new clients, tracking down contact information, reaching out with pitch emails and proposals and maintaining an ever-growing spreadsheet of California clientele.
Ask anyone in Vegas about San Diego and you'll hear nothing but glowing remarks. Vegas is known worldwide for its party scene, blazing temperatures and adult theme park atmosphere. San Diego, from what people tell me, promotes a true neighborhood feeling with an ocean climate and strong sports scene. It's a perfect place to open a second office for Wicked Creative, and an attractive potential long-term destination for myself. I'm looking forward to road-tripping there soon to check it out.
NEW EXPERIENCES
I could write all day on the number of wild, weird and wonderful experiences I've had in Vegas. A few of the most memorable include: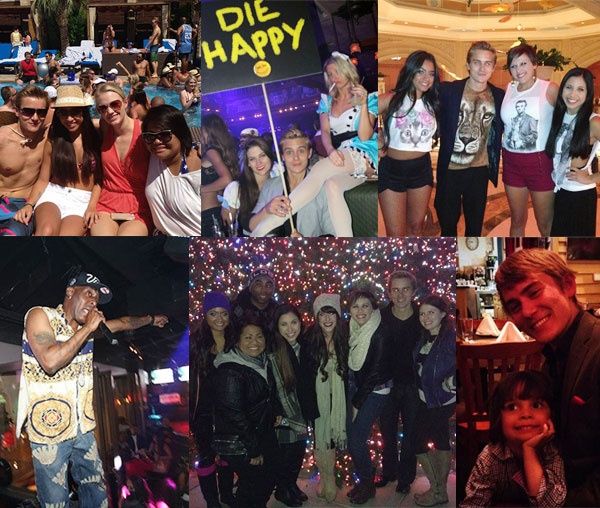 Day Clubs (like a nightclub, but at the pool during the summer)
Birthdays
End of the World parties at The ACT
Pussy Galore Party at The ACT
Basically every other night at The ACT…
Coolio stumbling through "Gangsta's Paradise" at Rockhouse
Reggie Jackson and Warren Sapp at Rockhouse
"Runner Runner" premier at Planet Hollywood
Ice Skating at the Cosmopolitan (and subsequently dislocating my knee)
Wicked Christmas party
Magical Forest
New Year's Eve
NEW CAST
Wicked has expanded by six employees since I arrived, and even since my last post people have come and gone. I'm grateful to work with 15 of the best and most talented women in Vegas, and blessed that a few have become some of my greatest friends. It's a new adventure every day being the lone #alphamale of the group, but I wouldn't have it any other way. These girls are my family out here, and I'd do anything for each and every one of them.
Since my last post, we've welcomed:
Allie Mandel
Bethany Deines
Brittany O'Connor
Cassie Baden
Jamie Hatcher
Kayla Agnello ("K-Lo")
Ortal Dahan
Congrats on well-earned promotions to:
Devin Aaron
Michelle Millen
Others have earned new and exciting opportunities elsewhere in the field. Congrats & best wishes to my good friends and former Wickeds:
Hannah Rickards
Kathy Banez
Sarah Alamshaw
Talia Rothman
Savyna Roufeh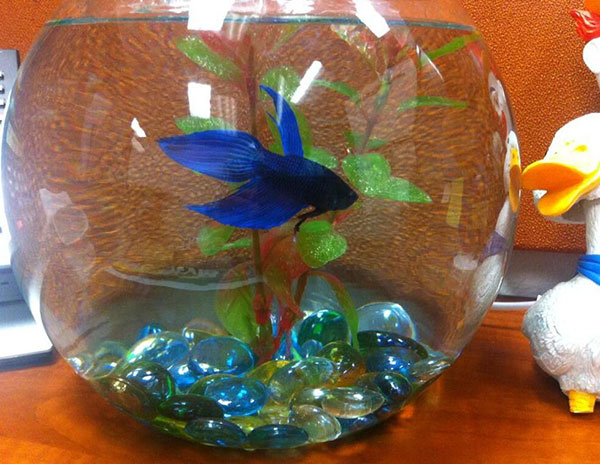 Also joining the Wicked team is my roommate and male confidant, Jett Jackson. Jett was 'born' (brought home from Petsmart) on July 3, 2013. He's a little shy to new faces at first, but says he's warmed up to the girls and is happy to be part of the Wicked family.
With every new year comes new challenges, new opportunities, new relationships and new adventures. Each day is a gift, and there's never a reason to settle or put restrictions on what you can do. If you're thinking about doing something next week, why not do it now? Life is something that happens to us all, but it takes an active desire to really live in every moment. As my guy Will Smith says:
"Being realistic is the most common path to mediocrity."
Stay tuned for more posts about my Vegas adventures, updates on the exciting future plans of Wicked Creative, tips on surviving in an all-girl office and more.
Follow Wicked Creative on Twitter @WickedCreative, on Facebook and on Instagram. You can meet our all-star team HERE and follow me on Twitter @FreshPrinceofMU.