Posted by Tyler Krochmal
Coming from three years of working in public relations for professional baseball, many people I've met during my first month in Las Vegas have asked a similar question: "So, what brought you out to Las Vegas?" And so far, the only answer I can come up with is a wide-eyed, "Just look at this place!"
Since getting hired at Wicked Creative, abruptly leaving Chicago and making the trek across country to Las Vegas in mid-April, I must admit I've been a little overwhelmed. Even though I've moved around a lot since college, the process is always more difficult than you expect and, since I'm planning on making this my home for the foreseeable future, it was important to get everything right.
Taking into account all of the chaos, I've loved every minute of the beginning of my Las Vegas PR journey. Leaving the sports world behind was tough and I'm sure I'll miss it moving forward. But, some of the things I've been able to do and the people I've been able to meet in just a month out here is mind-blowing and it's exciting to think of all of the opportunities and potential success that awaits me.
I've always believed that the best and most unique jobs are the ones that you have to work the hardest to get (and maintain). This mindset has propelled me all across the country in pursuit of extraordinary opportunities, including stops with minor league baseball teams in Seattle (2010) and South Florida (2011) and most recently a year in the major leagues with the Chicago White Sox (2012). Baseball PR is a grueling business, with the long hours that come along with a 162-game season, but the perks are there as well. Sports PR professionals don't get into the business to make a fortune; they, including myself, put in the work because they love sports, get to interact with players/coaches on a daily basis, get to meet fascinating people and, at the end of the day, have a baseball stadium (or other arena) as an office.
So what would make me leave all of that for a career in Las Vegas? Well, here are a few highlights from my first month in the "Entertainment Capitol of the World." You can judge for yourself if I made the right decision.
Clients
Las Vegas is home to some of the most unique dining, entertainment and nightlife destinations in the world. Only in this city can you eat at the top of the Eiffel Tower, see a dolphin show and ride an 866-foot-high roller coaster all in the same day. At Wicked Creative we promote many of the hottest venues on the Strip through press releases, social media and special events. During my first month I was able to work with clients such as Señor Frogs, TREVI, TENDER Steak & Seafood, Central Michel Richard and more.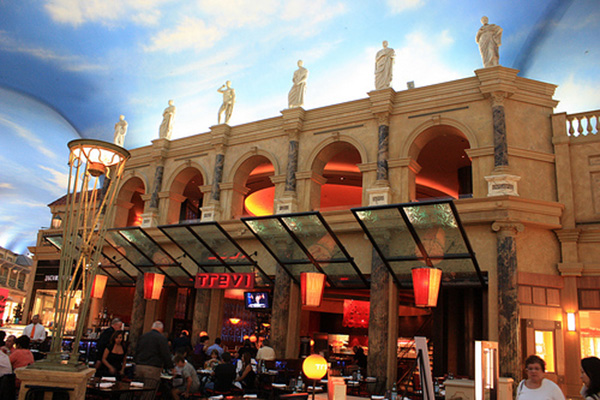 Trevi is located in the Forum Shops of Caesars Palace
Meetings
Before moving to Vegas, I figured there was no better place to have a work meeting than a baseball stadium. Getting to discuss ideas while overlooking the diamond and fresh-cut grass was both soothing and motivating. Yet while it pains me to admit it, that notion has been quickly toppled. As the new guy, I've had the opportunity to sit in on a variety of different client meetings across the city, including many of the top resorts on the Strip. I've attended meetings inside of a pyramid, on the streets of an ancient Roman boardwalk and sitting at the bar of one of the top party venues in the country (Señor Frogs)!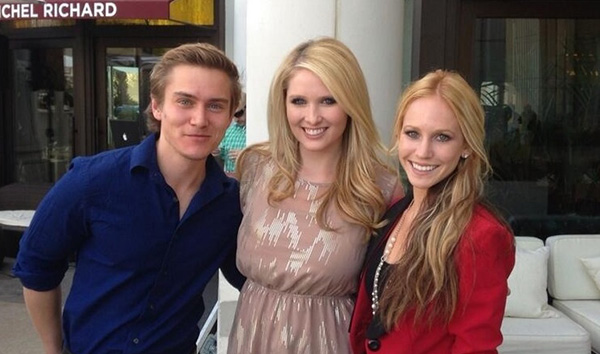 Team Jennie at Central's patio opening
Parties
Part of working in the dining/entertainment public relations field includes staffing, organizing and publicizing different parties and special events for our clients. My first taste of this experience came on my first Friday in Vegas at a VIP patio party at Central Michel Richard restaurant (located at the entrance to Caesars Palace). Along with the others members of our PR team, I was responsible for greeting the guests, checking them in (based on our VIP list) and making sure no random, drunk tourists crashed the party (we had a few that tried).
During this event I was able to meet many of the members of media and industry leaders that I'll be working with in the future, along with getting to know some of my Wicked co-workers a bit better. The night seemed to be an overall success, both for the restaurant and our team.
My second Central event fell on a Wednesday, and it turned out to be an unexpected adventure of a night. The event was held for select concierge teams of Vegas resorts, and once again took place on the fantastic outdoor patio. This gathering actually didn't have much to do with us, but since Central is a client, it was important for Wicked to be there. I spent most of the evening chatting with my boss, Jennie Hendricks, and Central's Director of Operations, Tony Fisher.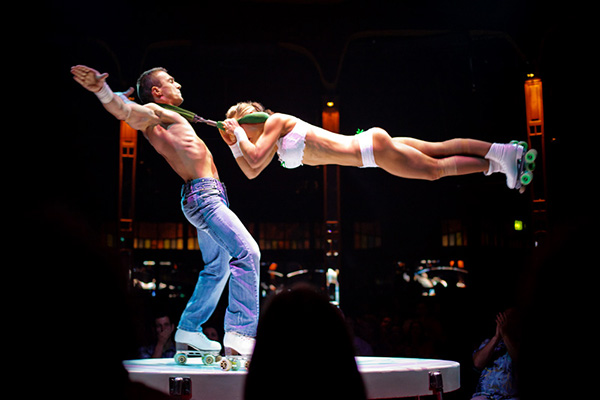 Absinthe at Caesars Palace
After the event I was treated to my very first Las Vegas show – Absinthe! The show is hard to describe, but was definitely a wild way kick off my Vegas entertainment experience. It also provided a great time for me to get to know my boss better; because you know what they say: nothing brings people together like cirque performers, sex jokes and lap-dance contests!
With the pride and joy of Team Jennie: Michelle Millen
Foodie Fest
Perhaps the biggest project our team has worked on since my arrival was preparation for the 2013 Las Vegas Foodie Fest, which was held April 26-28 at the Silverton Hotel Casino. Foodie Fest is basically what it sounds like; a large food festival featuring unique food trucks from Vegas and even across the country, carnival rides, entertainment and more.
One of the biggest attractions at Foodie Fest this year was the inclusion of White Castle, which served hot sliders for the very first time in Las Vegas. White Castle is a fast food staple back in Chicago and the Midwest, but they currently don't operate any restaurants west of Missouri. The anticipation in Vegas for these little sliders was remarkable, and there were long lines of people awaiting their Crave Cases throughout the entire weekend.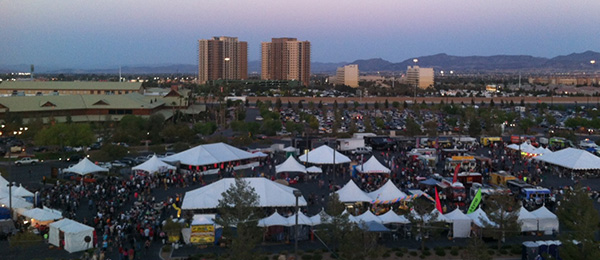 My view from atop the Ferris wheel overlooking Foodie Fest
Our team kicked off the event by working a VIP/media party on Friday night, which included greeting guests, taking pictures and constantly updating social media. After the initial meet-and-greet we escorted a photographer around the entirety of the festival, gathering pictures of food trucks, carnival rides and satisfied foodies. To get certain angles and fun shots, I went with Jeff Ragazzo, our photographer, up to the top of the Ferris wheel and the giant slide. I can't think of another job where I'd get to ride a Ferris wheel, but the shots we got from up there actually proved to be spectacular. We also ventured to the top of the slide to get additional wide shots, and then – purely for efficiency sake, of course – hopped on our potato sacks and slid our way to the bottom!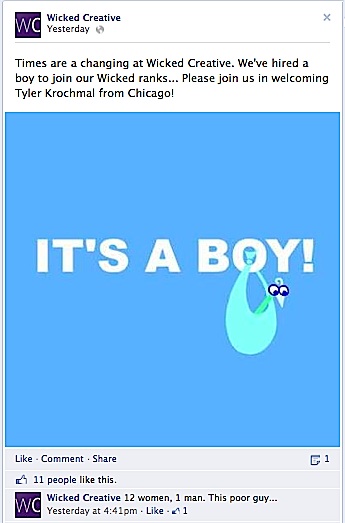 Office
As some people may have noticed, I am the only male in the Wicked Creative office. All of the girls have been extremely welcoming and friendly, even going out of there way to introduce me to other guys to hang out with (a.k.a. 'man time'). While I'm sure it's an adjustment for the office to suddenly have a guy around, I'm just hoping to eventually become part of the family and perhaps add a different perspective to the talented bunch.
There have been some conversations I've had to tune out of and references I don't quite understand, but my first month with the women of the Wicked office have been beyond expectations.
Stay tuned for more of the sights, sounds and unique experiences of my Las Vegas journey and find out more about what it's really like to be reppin' a Y chromosome in the Wicked world.
I'd also like to take a moment to congratulate Lauren Hudman on her promotion and give my best wishes to Cara Zizzo and Lindsay Feldman, who left Wicked Creative to pursue other exciting career opportunities!
Follow Wicked Creative on Twitter @WickedCreative, on Facebook and on Instagram. You can meet our all-star team HERE and follow me on Twitter @FreshPrinceofMU.