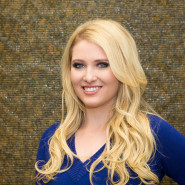 Lauren Cahlan is dedicated to generating buzz for a variety of entertainment, nightlife, dining and hospitality clients including Chateau Nightclub & Rooftop, HEXX Kitchen I Bar I Chocolate, FANTASY at Luxor, The Morton Restaurant Group, which owns La Cave at Wynn Las Vegas and CRUSH at MGM Grand, Temple Nightclub in San Francisco, The Juice Standard, Tacos & Tequila, Cabo Wabo Cantina, the Miss Nevada USA organization, RHUMBAR and more.
As a Senior Account Executive at Wicked Creative, Lauren has worked diligently to secure widespread media placements for her clients with outlets including The Ellen DeGeneres Show, Good Day LA, ELLE Magazine, USA Today, New York Post, Los Angeles Times, Urban Daddy, ABC News, FOX News, Hemispheres Magazine, Yahoo, Forbes, San Diego Magazine, Travel Weekly, AskMen.com, Nylon Magazine and more.
Notable projects include Terry Bradshaw's stage production, "Terry Bradshaw: America's Favorite Dumb Blonde…A Life in Four Quarters," at The Mirage. Through hard work and dedication, Lauren was able to gain top press attention for the show and was granted an "Award of Excellence" for her work by the Public Relations Society of America. She also managed the grand opening for Wahlburgers Coney Island, the launch event for Lyft Las Vegas, the "Shake the Vine" event at Tales of the Cocktail in New Orleans and the homecoming tour for Miss USA Nia Sanchez. She has facilitated countless red carpet events featuring top celebrities such as Jennifer Lopez, Shaquille O'Neal, Nicki Minaj, Juan Pablo of "The Bachelor," Ruby Rose and T-Pain.
Lauren attended the prestigious Reynolds School of Journalism and Advanced Media Studies at the University of Nevada, Reno, where she earned her Bachelor of Arts degree in journalism with an emphasis in public relations and advertising and a minor in political science.