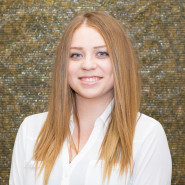 Abandoning the primarily rainy climates of Oregon, Sidney moved to Las Vegas to pursue a career in public relations. As an Assistant Account Executive, she is responsible for writing press releases, media outreach and managing social media accounts for clients including Tacos & Tequila, Brainstorm, Mirus Gallery and Temple Nightclub.
A graduate of Portland State University in Oregon, Sidney earned her Bachelor of Science degree as a double major in business management leadership and human resource management, with a minor in psychology. At Portland State, Sidney worked with Residence Life and Campus Recreation, while also a member of Greek Life and the Human Resources Management Association.
Outside of the office, Sidney can be found getting sunburnt at the pool, spending time with family and friends, or getting lost at Red Rock.