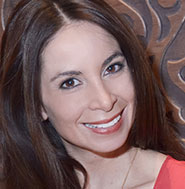 Stephanie Wilson founded Wicked Creative in 2006, and has since grown the company into one of the top agencies in the market representing travel, dining, celebrity, nightlife, beauty, wellness and entertainment clients.
With nearly 15 years of experience in both agency and corporate environments, Stephanie has marketed many of Las Vegas' best-known entities to the world. Most recently, Stephanie was the Director of Marketing and Communications for the $3 billion Las Ramblas development, a partnership between Related Companies in New York City, Related Group in Miami, Centra in Las Vegas and George Clooney with After Midnight. When the development team decided to sell the land in anticipation of the downturn in the economy, Stephanie leveraged her experience to start her own company, Wicked Creative.
She first moved to Las Vegas from Denver, Colorado in 1998, when she accepted a position with Kirvin Communications Group (now Kirvin Doak Communications). As a Senior Account Manager, her clients included such well-known entities as Wolfgang Puck Fine Dining Group and Mandalay Bay Resort & Casino.
In 2001, she joined the company that would eventually be known as Pure Management Group as Director of Marketing, where she handled all public relations and advertising initiatives for Coyote Ugly Bar & Dance Saloon, Bikinis Beach & Dance Club, Tangerine Nightclub and the launch of Montecristo Rum.
In 2004 she left Pure Management Group to join the new Barrick Gaming Corporation as Director of Marketing, which had acquired six hotel-casinos and associated real estate holdings in Downtown Las Vegas for redevelopment.
Stephanie has been featured in SEVEN and Vegas Magazine for her style and accomplishments; and was recently selected as one of Vegas Inc.'s "Top 40 Under 40." A Colorado native, she graduated from Colorado State University with a Bachelor of Arts degree in Journalism with a minor in Advertising.  An active member of the community, Stephanie is on the Steering Committee of Keep Memory Alive, and donates Wicked Creative's time and services to events benefiting The Dave Rice Foundation and The Shade Tree.
Stephanie enjoys running, dining out, and spending time with her adorable son, Teo, who was born in 2010.