Meatball Spot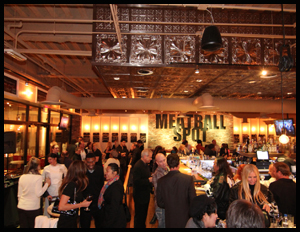 A dynamic restaurant and a bar made for mingling come together at the new Meatball Spot, now open across from Rave Motion Pictures at Town Square. Featuring the celebrated fare of renowned chef Carla Pellegrino and a compelling cocktail menu, Meatball Spot offers meatball dishes, pizzas, salads and a gelato bar, as well as an array of mojitos, sangrias and cocktail floats.
Meatball Spot's menu features an array of farm fresh selections, starting with delectable meatballs in several variations including Classic, Pork, Beef, Chicken, Turkey, Lamb and Vegetarian. Weekly specials include items like Buffalo Chicken Meatballs with bleu cheese, Taco Meatballs and more. Meatball Spot also serves traditional 'Roman Style' thin crust pizzas, served in half-tray portions that serve two to four people, and full-tray portions that serve four to six people. Guests can load their pizzas with various toppings, including pepperoni, sausage, meatballs, pineapple, jalapeños and more. Salad selections include the Strawberry Balsamic Salad, the Kitchen Sink Salad, the Baby Arugula Salad and more.
French country design unites with a SoHo meets Malibu setting at the dynamic new restaurant, where a white picket fence frames a spacious patio with a garden-style setting outside, and a lively bar is the centerpiece to the dining room inside.  A takeaway counter offers pizza by the slice and other quick bites. Altogether, the 7,000-square-foot restaurant seats 250 guests.