Sugar Factory American Brasserie – New York City Grand Opening
Case Study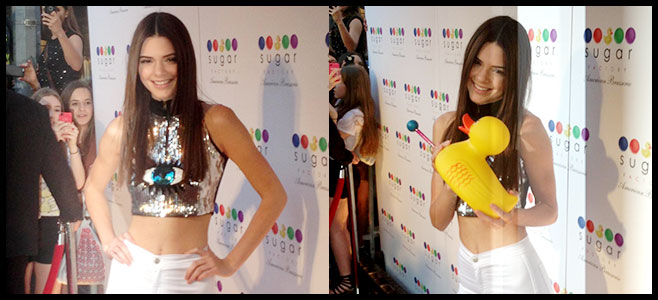 Background
Sugar Factory has made confections part of popular culture, turning sweets into the latest designer accessory. Best known for its celebrity-adored Couture Pops, iconic superstars including Britney Spears, Drake, Rihanna, Kim Kardashian, Eva Longoria, Katy Perry and Gerard Butler are just a few of the stars who have either endorsed or been spotted with the sparkly lollipops. The celebrity affiliations have made Couture Pops part of popular culture through widespread media attention from The Today Show, Good Morning America, PEOPLE Magazine, E! News, Us Weekly, USA Today and more.
Wicked Creative was retained in 2009 to help launch Sugar Factory at its first location inside The Mirage Hotel & Casino. Since 2009, Wicked Creative has played a vital role in the local, national and international expansion of the celebrated confection brand. After opening the first location, Wicked Creative worked with the client to open three other Sugar Factory locations around Las Vegas: Miracle Mile Shops at Planet Hollywood Resort & Casino, MGM Grand Hotel & Casino; and the company's first Sugar Factory American Brasserie, which expanded the concept beyond retail to a contemporary restaurant serving breakfast, lunch and dinner.
Sugar Factory American Brasserie gained widespread popularity, and in April 2013, the company opened its second retail and dining spot and first domestic location outside of Las Vegas in New York City's Meatpacking District. The new 3,000-square-foot Sugar Factory introduced a sampling of the company's signature treats, merchandise and the world-famous Couture Pops in the retail candy store, as well as the company's extensive menu and popular goblet cocktails to the East Coast.
Objectives
Position Sugar Factory as a national entity with the opening of its first domestic location outside of Las Vegas.
Secure widespread national press coverage for the grand opening of Sugar Factory's New York location by launching a pre-opening public relations campaign.
Secure a national entertainment news program exclusive to publicize the grand opening.
Continue to secure national press coverage in the months following the grand opening in order to keep the media excited and engaged in the Sugar Factory brand, and establish the company's brand on a national level.
Strategy
Sugar Factory was well-known for its celebrated celebrity following in Las Vegas, and Wicked Creative sought to translate this awareness to an even stronger national level. In order to build buzz and excite media for the New York location, Wicked Creative launched an integrated pre-opening public relations campaign in the months prior to the event through media outreach, social media and red-carpet event planning.
Focus was placed on the company's whimsical confections, creative menu and, most notably, strong celebrity following. In pitching national media prior to the event, Wicked Creative emphasized past Sugar Factory celebrity events and affiliations, such as Britney Spears' engagement party, Demi Lovato's birthday party and Khloe Kardashian's wedding. The presence of celebrity host, Kendall Jenner, at the New York grand opening was made a strong point of publicity focus, serving to keep the Sugar Factory's image consistent throughout the brand's national expansion. Wicked pitched photo agencies, local and national media contacts and VIPs to attend and cover the opening event and secured exclusive coverage of Sugar Factory's New York grand opening with national entertainment news program, E! News. Pre-opening coverage was also secured with prominent New York local media, including the New York Post and New York Magazine.
For social media, Wicked Creative launched multiple contests to gain followers and increase Sugar Factory's already strong online presence. With a grand prize of meeting celeb host Kendall Jenner, Sugar Factory gained more than 1,000 new followers on Instagram in a single day.
In the months following the grand opening, Wicked Creative continued to secure national media coverage with a celebrity focus in well-known media outlets such as in Life & Style, FOX News, PEOPLE Magazine and US Weekly. In December of 2013, Wicked Creative secured a Sugar Factory feature on leading national morning show, Good Morning America. Sustaining a high level of national media attention after the grand opening secured the Sugar Factory's image as the leading popular culture confection brand in the nation.
Wicked Creative simultaneously maintained the Sugar Factory's presence on a local level, earning placements in local publications such as New York Press and Manhattan with a Twist.
Results
The national media response was overwhelming; many national news outlets covered the grand opening, including Us Weekly, PEOPLE Magazine, STAR Magazine, Yahoo!, Life & Style Magazine, In Touch Weekly, OK! Magazine and E! News.
New York City's local media featured numerous items and stories, including the New York Daily News and NewYork.com, with more than 30 photographers attending the red carpet event.
Due to the success of the New York City location, Sugar Factory has expanded its reach even further to open two additional locations in 2013, at Town Square Las Vegas and on the celebrated Hollywood Walk of Fame in Los Angeles. With the continued public relations support of Wicked Creative, Sugar Factory will soon expand to: Washington, D.C., Chicago, Boston, Miami and San Diego.