Sugar Factory American Brasserie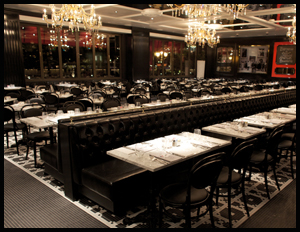 Sugar Factory American Brasserie is an all-around perfect union of sweet and savory, meant for candy-lovers and self-proclaimed "foodies" alike. Situated in the heart of the Las Vegas Strip, with direct access from Las Vegas Boulevard, Sugar Factory American Brasserie takes the guest on a breathtaking, visually-inspiring journey from beginning to end.  The impressive dining room is given a traditional French brasserie feel with intricate details and handmade art from local artists, accented by etched mirrors, black and white imagery, and brass finishes. Every piece of furniture in Sugar Factory American Brasserie was custom-made for the venue.
The mouth-watering menu at Sugar Factory American Brasserie was crafted by a team of world-class chefs, including: Executive Chef Michael Sellmann, Corporate Pastry Chef Michael Gillet and Restaurant Consultant Bryan Ogden. The sizeable menu features signature items such as Smoked Salmon Frittata, Grilled Black Angus Filet and Toasted Brioche Eggs Benedict, along with classic favorites such as pizzas, pastas, salads, fresh seafood, steaks, sandwiches, burgers and more. Breakfast options such as gourmet waffles, omelets and crepes. Of course, Sugar Factory American Brasserie will produce an over-the-top dessert menu which includes signature sweet treats such as Raspberry Lemon Brulee Pizza and the King Kong Sundae with 24 different scoops of ice cream, along with homemade gelato, milkshakes, ice cream sundaes, sweet pizzas, pastries and more. Open 24-hours-a-day and seven-days-a-week, guests can indulge in their cravings anytime they want at this confectionary and gourmet emporium.