The Act Nightclub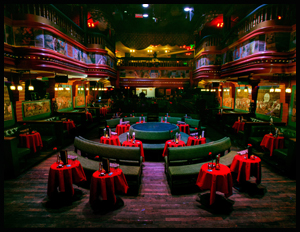 The ACT is a performance-based nightclub located inside The Shoppes at The Palazzo at 3327 Las Vegas Boulevard South, Las Vegas, Nev. 89109, is open Wednesday through Saturday from 10:30 p.m. to 4 a.m. For more information, visit www.theactlv.com or contact 702.792.1164.
The 15,000-square-foot, multi-level space merges aesthetic elements ranging from an Italian opera house to European cathedrals, from New York City's Grand Central Station Post Office to a turn-of-the-century speakeasy. Guests experience the action unfold onstage from numerous perspectives, including private balcony boxes, banquettes on the dance floor and a backstage seating area that allows guests to mingle with the talent.
The ACT, managed by Variety Worldwide, is the latest venture by Hammerstein, a seasoned theatrical producer and artistic director with nearly two decades of experience and who has been recognized in publications including Vogue, Vanity Fair, The New York Times and New York Magazine. Hammerstein is also president of the widely popular variety theatre, The Box, with locations in New York City and London. The creativity that won The Box international acclaim for award-winning design, exclusive clientele, extraordinary service, innovative live theatrical productions, and attendance by more than a million people since 2007 are channeled inside The ACT, making it the most exciting addition to the Las Vegas nightlife scene.