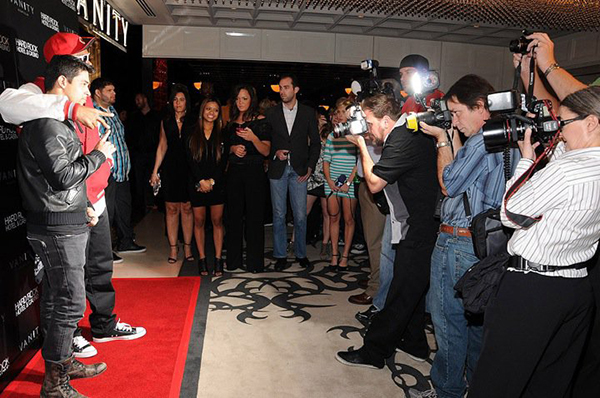 Posted by Cara Zizzo
I've always been fascinated with the Hollywood glitz and glam, but being a Midwestern girl growing up in the "Windy City" I never thought that my career would include working red carpets for celebrities and clients in Las Vegas.
You know that celebrities worry about what to wear on a red carpet; and when you are working in PR, you do, too. The goal in PR is to stay out of the shot whenever possible, but when it can't be avoided you want to focus on two things: being polished and invisible. It's like being a bridesmaid. You want to look nice, but you don't want to overshadow the bride.
What to wear:
Outfits
One thing, cheesy and all, but wear a smile. No one likes a bad attitude and I know most people don't like being caught in the background of a photo frowning. Smile the entire time you are interviewing someone, it may feel awkward, but it comes off as friendly and the celebrity will usually talk longer. Always dress professionally – you are working, after all. If your skirt or dress is going to be a little tight, then you better pair that with a boyfriend blazer. Never wear strapless. Rule of thumb, if you have to question if it is too short, then chances are it is. Leave the club party dresses at home. Wear a solid color, and never wear white, a bold pattern or anything else that will pop in the background of a video or photograph.
Shoes
Usually events can run hours upon hours. By the time the PR representative has to show up – usually before most people if it is your event – you might be on your feet for several hours before the job is done. Shoes are key. You don't want to wear your cutest pair if they hurt your feet after an hour, because you will end up looking like you are doing the "Thriller" dance by the end of the night. But then again, you don't want to be seen wearing Crocs on the carpet (or ever). It is hard to find a happy medium, but once you have that pair, keep them, and buy them in multiple colors.
What to bring
Clipboards
Nothing is worse than not being organized for a red carpet. Carry a clipboard with everything on it. If you think having the celebrities IMDB bio printed out and hidden at the very bottom, then do it. Have a check-list, shot-list, interview questions, timelines, names of every media member attending and then some. Plus, if you have a clipboard in your hands (and the proper credentials if needed) most people usually don't ask questions about where you are going and who you are with.
Business Cards
Always carry business cards, and look out for new press contacts. If you don't have a purse, stick them on your clipboard or in your pocket.